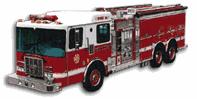 If you or someone you love needs emergency help, you would probably want help to get there as fast as possible. The best way to assist someone in need to receive emergency help is to Move to the Right for Sirens & Lights!
Some people might panic when an emergency vehicle approaches.  Please yield to emergency vehicles by pulling over (in a safe place) or stopping to allow emergency vehicles to safely negotiate  around you. Failure to yield the right-of-way to an emergency vehicle delays in emergency responses by ambulances, fire engines and fire trucks arriving at the scene of an emergency.
Firefighters with WPFD are volunteers that respond from their home areas in a moments notice.  We only use our flashing lights when dispatched to an emergency scene and the situation is critical. You are asked to allow us to pass you SAFELY when driving marked fire vehicles and personnal vehicles that display flashing emergency RED lighting and/or sirens.  Sometimes we go directly to the emergency scene (if close by) or directly to our local stations to retrieve emergency vehicles. Your help is appreciated to help us get where we are needed in a quick and safe manner.
Firefighters are careful to avoid vehicle collisions by driving slowly when traveling against traffic, or coming to a complete stop at intersections. However, the cooperation of ALL vehicles on the roadway is essential.